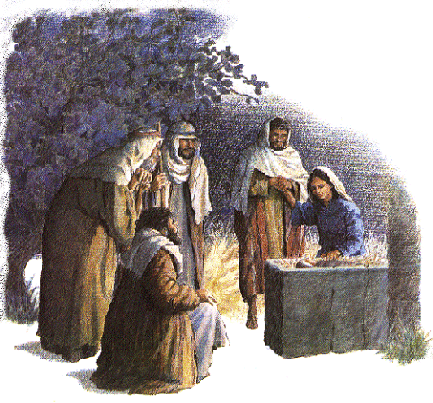 [Picture from catholic-resources.org]
"In those days Caesar Augustus issued a decree that a census should be taken of the entire Roman world. (This was the first census that took place while Quirinius was governor of Syria.) And everyone went to his own town to register.

So Joseph also went up from the town of Nazareth in Galilee to Judea, to Bethlehem the town of David, because he belonged to the house and line of David. He went there to register with Mary, who was pledged to be married to him and was expecting a child. While they were there, the time came for the baby to be born, and she gave birth to her firstborn, a son. She wrapped him in cloths and placed him in a manger, because there was no room for them in the inn."
[Luke 2: 1-7]
When Jesus was born he was put in a manger because there was no room at the inn. Can you believe that? The king of kings and lord of lords was born and no one could spare a room! Sounds just like today, how often do we not have enough room for God? How funny how that works we are blessed with life and we cannot find the time for the one who had created us. Just can't find the time, too busy! Sorry God got more important things to do.
Soon afterwards an angel visited the shepherds that were tending their sheep in nearby fields, which terrified them. Anyone would have been startled. When was the last time an angel had paid you a visit?
Than an angel of the Lord said:
"
Do not be afraid. I bring you good news of great joy that will be for all the people. Today in the town of David a Savior has been born to you; he is Christ the Lord. This will be a sign to you: You will find a baby wrapped in cloths and lying in a manger.
" [Luke 2:10-12]
I find this to be so wonderful. God the creator of all things was willing to make himself very vulnerable. Coming to earth as a baby through the blessed virgin Mary. He was willing to humble himself and step down from his heavenly throne to fulfill the prophecies of old. Not only that, but what a very humble birth at that. He wasn't born in a palace, with wealthy parents. Instead he was born to very poor parents and was soon put in a manger for his bed.
Jesus was born in a little town of Bethlehem which is Hebrew for, "house of bread". God in the flesh, resting in a manger! Jesus who said he was the bread of life, was resting in a feeding trough. Almost as if he was a grain offering. Imagine that!
"
I am the living bread which came down from heaven: if any man eat of this bread, he shall live for ever: and the bread that I will give is my flesh, which I will give for the life of the world.
" [John 6:51]
Than when we think of how bread was made. The different grains were smashed and ground into flour and other ingredients were added such as yeast and oil than it was baked. The smashing of these grains would foreshadow what was in store for the son of God, being lashed, beaten, and than crucified for the sins of the world. Indescribable!
Another thing I thought was great was how angels paid a visit to shepherds to let them know that their "Savior" has been born. Of all the people, shepherds! The lowest of the low class, were told that the savior of the world was born! It wasn't the Pharisee or the leaders of Judea but shepherds. Shepherds weren't even allowed in the Temple because they were considered such outcasts. Many were considered to be thieves, murders, and their job made them an "unclean" people.
As soon as the shepherds had heard this news, a choir of angels burst into song praising the Lord!
"
Glory to God in the highest, and on earth peace to men on whom his favor rests.
" [Luke 2:14]
After this they dropped what they were doing and hurried to find what they heard about. They went to pay Mary, Joseph, and baby Jesus a visit. This was one momentous event, and the only people that were invited were outcasts, shepherds, the rejects of society!
That sounds just like God hanging out with the riff raff of society. Like the sick, poor, brokenhearted, and sinners that no one else had time for. The cool thing is that, before Jesus' return, we are all invited and believe me folks this is a party you don't want to miss!
How can anyone describe the greatness of our Lord Jesus the Christ? I leave you with these words by a great preacher who often described his frustration of trying to wrap the glory of God into words.
"I know my words cannot honour him according to his merits : I wish they could. I am quite sure to fail in my own judgment when telling out his excellence ; indeed, I grow less and less satisfied with my thoughts and language concerning him. He is too glorious for my feeble language to describe him. If I could speak with the tongues of men and of angels, I could not speak worthily of him. If I could borrow all the harmonies of heaven, and enlist every harp and song of the glorified, yet were not the music sweet enough for his praises." [
Charles Haddon Spurgeon
]
God bless and peace be with you all!